Five with Fitz: Set Yourself Up for 2018 with Apple, Gold, and More
I've been all over the planet for the past few weeks and, as part of that, had the opportunity to speak with many members of the Total Wealth Family. Along the way, I've also received a tremendous number of emails.
Both give me significant insight into what's on your mind and, more importantly, the specific topics you'd like me to address as we head into 2018.
That's fantastic because Total Wealth is as much yours as it is mine. We are, after all, in this together!
On that note, let me dive right in with the most frequently asked questions I'm getting right now.
[URGENT] Where did President Trump just invest $18.6 million, and what does it have to do with your retirement? Click here.
Q: What do you make of Apple's most recent earnings, and are there other stocks that it will influence?
A: Apple Inc. (NasdaqGS:AAPL) is one of the most widely traded companies in the world which is why its earnings influence markets worldwide as well as individual stocks like Infineon Technologies AG (OTC:IFNNF), Micron Technology (NasdaqGS:MU), and Broadcom (NasdaqGS:AVGO) – all of which are key Apple suppliers.
But the "lift" won't stop there.
That's because Apple attracts a significant amount of global mindshare – meaning that it's customers wield a staggering amount of influence. This is actually a far more powerful influence, believe it or not.
That's because the company  may be the single best example  of a "creative-destructor" (ever) given what it's done to former greats like Dell Technologies Inc. (NYSE:DVMT), Research in Motion, Nokia Corp. (NYSE:NOK), Sony Corp. (NYSE:SNE) as well as other once-proud industry standouts.
But, what catches my attention is the fact that Apple beat most recently on both the top and bottom lines with exceptionally strong growth in its services business which posted 22% year-over-year growth to the tune of $7.27 billion. We've been talking about that as a key driver for several years even though much of the street is just catching on.
I believe services will be one of the single most important growth factors driving Apple for the next decade. I also believe that services revenue will accelerate sequentially in the years ahead. That, in turn, will allow Apple to compensate for the inevitable saturation of production numbers for devices like the iPhone and iPad.
Not surprisingly, given my perspective, I believe that Apple is still undervalued.
The same can be said for Amazon.com Inc. (NasdaqGS:AMZN), Alphabet Inc. (NasdaqGS:GOOGL) and Facebook Inc. (NasdaqGS:FB) – all of which are squaring off for an epic battle in the years ahead in a sector that's only just dawning on most investors: Big Data.
I'm obviously following this closely because of the role it plays in our Unstoppable Trends and the trillions of dollars backing 'em.
[TRENDING] It's an under-the-radar trade that could turn just two weeks' pay into $109,845 or more… click here.
Q: Could gold be entering a sustained rally, and how much should I own?
I think conditions are right for a sustained rally but not for reasons most analysts think.
Specifically, the weaker U.S. dollar most analysts cite as if it's groundbreaking news is a "gimme" lately and, sadly, won't amount to much. What you really want to watch is these four things as I outlined them to more than 600 attendees at the Sprott Natural Resources Symposium in beautiful Vancouver, BC last week:
Janet Yellen never met a printing press she didn't like so she's got no idea how real money works, let alone how markets will react when the Fed starts trying to unload the $4.5 trillion in junk it has on its balance sheets.
Asia thinks about gold differently than we do in the west which means that there's likely to be a lot of unrecognized demand in the years ahead, much of which will come from China and India where the middle class is still expected to grow by 100 million or more people within the next 2 years.
Bitcoin speculators realize that it's not what they thought and that brings much of the price movement that used to be associated with gold prices back. And;
Gold is now a collateralizable asset – meaning traders can post it in conjunction with other instruments like treasuries to back up the leverage they use daily. The net effect is more liquidity.
Interestingly, the move probably won't begin right away, which means you've still got ideal time to pick up gold, bullion, mint certificates – whatever you like – at lower prices. Studies show that 2%-5% allocation is about right for most investors, so use that as a starting point when it comes to your own portfolio. Check with your financial advisor or planner to be sure.
Q: Should we buy Snap Inc. (NYSE:SNAP) now that the stock has come down in price?
I wouldn't. The company remains a badly flawed operation. Advertisers are losing interest, and key influencers are moving on to other platforms – not the least of which is Instagram. And last but not least, SNAP is not forthcoming with analytics so key brands are unable to judge effectiveness – something I'm hearing from a variety of frustrated industry sources incidentally.
I think traders kill the stock before the competition does.
[WATCH NOW] Your Jaw Will Drop 8 Seconds into this Clip… Click here.
Q: What happens when the Fed starts unloading the $4.5 trillion of Treasuries and mortgage backed securities it holds?
History shows that there have been six "reduction" efforts over the past 125 years: 1921-1922, 1928-1930, 1937, 1941, 1948-1950, and 2000. Five of six times, that's resulted in a recession, according to MKM Partners.
Yet, that's not a reason to dump everything you own and head for the hills.
As I noted on Fox Business Network's Cavuto Coast-to-Coast recently, it's the speed with which Team Yellen unloads that matters and most analysts aren't thinking about that. If the Fed sticks to the snail's pace normalization it's followed so far, then the markets can absorb the garbage dump. Where it gets really dangerous for your money is if the Fed tries to tighten faster than the economy can grow its way out of the inflation Yellen insists is low.
Traders, incidentally, seem to share my thinking given that the Fed funds futures contracts imply a 1.45% rate at the end of next year.
Bottom line, stay in to win… or you won't.
Q: Why don't you ever recommend Unicorns (pre-IPO companies worth $1 billion or more)?
Because most aren't worth the price of the paper their offering documents are printed on. As such, they're a risk you don't want, let alone need in your portfolio.
The pre-IPO valuation game is just that… a game.
It's set up for one purpose – to con average investors into believing that the products and services they offer are worth $1 billion or more so they'll pony up on the IPO.
The difference between pre-IPO valuations and public valuations is simply staggering. SNAP, Blue Apron, FitBit, GoPro… I can name any number of disappointing listings where investors got hosed but founders and their early investors, lawyers, and venture capitalists made billions.
According to a recent joint study by Stanford University and the University of British Columbia, less than half of companies valued at $1 billion privately were worth that.
While there are a variety of complicated stock machinations that make this possible, the worst is something called a "liquidation preference" which guarantees a payout if the company gets acquired or there's another exit. In fact, the same study showed the liquidation preference can artificially jack a company's value by 94%.
Flip that around and you could also read that as the projected valuation of a company planning to go public based on valuations assigned to it during private funding rounds is worth only 6% of the prices being bandied about by breathless media pundits. Six percent!!!
Real revenues, real products, and real services like those we prefer are the way to go when it comes to building Total Wealth and the financial future of your dreams. Examples include companies we talk about all the time: Raytheon Co. (NYSE:RTN), Becton Dickinson & Co. (NYSE:BDX) and American Water Works. Co. Inc. (NYSE:AWK), all of which have given subscribers to my paid services like the Money Map Report and High Velocity Profits following along the opportunity to achieve triple-digit profits.
BONUS: When do you see a major correction happening, and at what levels?
Mid-2018, at which point I'll be recommending you retrench for a possible 1-2 year pullback of 15%-18% that sets the S&P 500 up for a run to 3,000 or so.
There are obviously no guarantees that the markets will cooperate which is why you don't want to second guess things despite what I just said. Timing the markets never works, but understanding sentiment does.
The key is something not a lot of investors think about.
Innovation is always forward-looking. By its very definition that means it enhances, improves and, in some cases, even replaces products, services, and valuations that have come before. Many times that involves recreating the functionality of simple tasks have has existed for centuries – like the cell phone (Apple), like getting to know people (Facebook), and deliveries (Amazon) – just to name a few.
Ergo, the markets are very much like a good old-fashioned bull ride.
If you've ever been to a rodeo, what I mean by that is that investors who want to be successful and profitable need to stay "on" the bull until the 8-second buzzer that signals victory.
I'll be with you every step of the way to help you do that!
Until next time,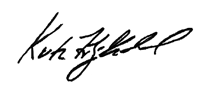 Keith Fitz-Gerald
Chief Investment Strategist